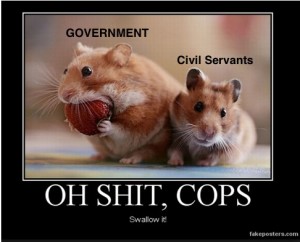 It is a natural reaction for many people to initially deny something they did do when they are first accused. They might even resort to attacking the person bringing the information to light.
Denial and attack.
I'm sure most of us have personally engaged, at some point in our past, in this tactic and have witnessed others do so as well.
Many news stories come to light where politicians, lawyers and celebrities get caught in some form of wrongdoing and we get to witness their public exposure, public humiliation, public denials and more play out in the media over and over.
When governments and their agencies are caught in wrongdoing denial and attack are well-worn tactics they use. The consequences often are destructive for the whistleblower despite "whistleblower protection laws". Exposing the truth of wrongdoing in government, despite the rhetoric of transparency, is seen as going up against the might and financial power of the State, which the agents of the State are then reacting to and fighting to maintain the State's appearance of credibility and authority.
But at some point enough information comes to light where even the all-powerful State is proven to have broken the law and harmed innocents. The question becomes how does the State deal with the consequences of the exposure in such a matter as to maintain its authority, it's claimed position of power. Such is the art of diplomacy, although, as recent wiki leaks and other leaks have demonstrated the art of the diplomacy has also at times sunk into a very low form of "attack to cover up what really is true".
When the truth is finally FULLY acknowledged by the State actors and they can no longer deny or attack individual whistleblowers what will they do next?
This video kinda sums up how close we may be to the full exposure point: 
Godfrey Bloom: The State is an Institution of Theft – Nov 2013 EU Parliament
There are two cases happening right now in Canada and the United States where the State may be approaching a final stage of "what will they do next" in order to recover from the situation they find themselves in and exposed by.
Previously we have reported on Divine Providence in the United States and Dean Clifford in Canada. Both happen to be sharing a similar fate at the moment.
Dean Clifford, generally acknowledged as one of the leaders of the freeman movement, presently Continue reading Divine Province + Dean Clifford Updates Tell An Interesting Tale