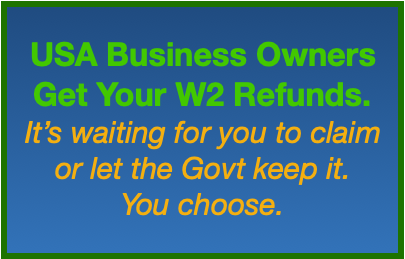 USA Business Owners: The Govt Probably Owes You Money
We recently heard about a financial "recovery" program in the USA that is interesting. Some govt programs just give away taxpayer money with all sorts of strings attached. This program is a little different.
Congress set aside over $500 billion for
refunds of taxes paid by businesses

with W2 employees, up to $26,000 per employee for 2020 and 2021.
If you have a business, work for a business, or know someone who owns a business in the USA, please let them know that the govt wants to return to them a lot of money, no strings attached EXCEPT you have to apply for it.
It's kinda funny how govts do not heavily promote certain programs and they make it complex to make a claim, so they get to keep that earmarked money for themselves.
So, let's spread the word and get THEIR money back in the hands of the people.
USA business owners (churches too) who:
had 5 or more W2 employees during 2020 and 2021,
were partially or fully shut down or
had a drop in sales due to the "pandemic"
can reclaim taxes paid – a refund, not a handout
start the claim process here – https://w2money.com
they also have a recovery program for people who started a business during the pandemic
Fill out the basic info form here https://w2money.com to find out if your business qualifies (churches too) and these nice folks will handle the rest if you want (yes this is a real Congress/Treasury/IRS program, which you can get all the paperwork hoops handled for you).
We liken this to a reparation payout for war against small businesses, but they are only returning your money not paying more.
Well, that is a lot better than nothing. Spread the word, this can help people out.
Don't let govt keep your money when they are offering to give it back!
see if your business qualifies here – https://w2money.com

======
NOTE: In Canada there is a program for First Nations that has millions available but few seem to know about it: see Post here
Canada and First Nations Move to Self Government: Reparations