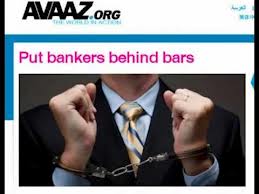 Has the sh** hit the fan FINALLY?
Are the real criminals being arrested and hopefully, stripped of their ill gotten wealth before they go to jail for a long time?
Check out some reports here…
Bankers Arrested In Iceland, Ireland, UK, USA, Switzerland, India, France, Russia, Austria
http://www.youtube.com/watch?v=dmOZ3jtGtCc&feature=youtu.be

Sign petition on Avaaz – UK: Banksters behind bars – http://www.avaaz.org/en/bankers_behind_bars_g/
The rest of the story:
1. Take Action And Put Bankers Behind Bars. LIBOR and more "In Your Face" Bankers Crimes – http://youtu.be/KkWrssQoNKA
2. BANKERS BEHIND BARS – YOUR ACTION REQUIRED – SIGN THE PETITION AND MAKE VIDEO VIRAL – LIBOR AND MORE – http://youtu.be/VcOUe0e8WKo
3. 600+ AND COUNTING WORLDWIDE BANKERS RESIGNATIONS – The Rats Are Jumping Ship (3) – http://youtu.be/wjaJRYQ5Bec
Content:
1.Pat Robertson_ Bankers who lied & crashed the economy should go to jail-http://youtu.be/X6KmSSFYMMI
2.Breaking news – Irelands Bankers being Arrested and Charged-http://youtu.be/uuDGkLoqkhg
3.CITY OF LONDON SWISS BANKER LOOTED $2 BILLION THIS WEEK-http://youtu.be/DaS4FWjH4W8
4.Last week Geithner was arrested and released!-http://youtu.be/q5j6Yk0qAgQ
5.Swiss banker tells all-http://youtu.be/rIvwrO-M_bE
6.Top bankers arrested in Loan Scam-http://youtu.be/I6sIL83Q3rQ
7.UK bank scandal spreads, gets costlier-http://youtu.be/dv2P0yNW8PE
8.4 guilty bankers arrested-http://youtu.be/8WlE1wcFe5w
9.IMF Head, Dominique Strauss-Kahn Arrested In New York For Attempted Rape-http://youtu.be/99aVEVcoDlQ
10.Tony Robinson calls out British banking system. Must Watch-http://youtu.be/1ugGJv57F3k
11.Another Banker Arrested On Sexual Assault Charges-http://youtu.be/LvgEfrKJ7iU
12.Western bankers intensify global recession by financial terrorism-http://youtu.be/8DuMvz-2UzQ
13.Barclays CEO, Bob Diamond – My £20m bonus is 'appropriate'-http://youtu.be/eLWGVe8NUIE
14.Bonus row as RBS losses mount-http://youtu.be/shWaBQFg8ug
15.Bob Diamond: I'm sorry-http://youtu.be/5fCubkRh95s
16.David Cameron and George Osborne on tackling Labour's debt crisis-http://youtu.be/e2ekLmIMCuk
17.Question Time 5th July-John Lydon-http://youtu.be/dxjMAL_RuEY
18.President of the World Press Conference-http://youtu.be/jDUiuk-12Zg
19. Keiser Report: Paper Money Collapse (E297) –http://youtu.be/dculP2KAg_4
—
 Private message related to the private activities of a private person. All rights reserved.