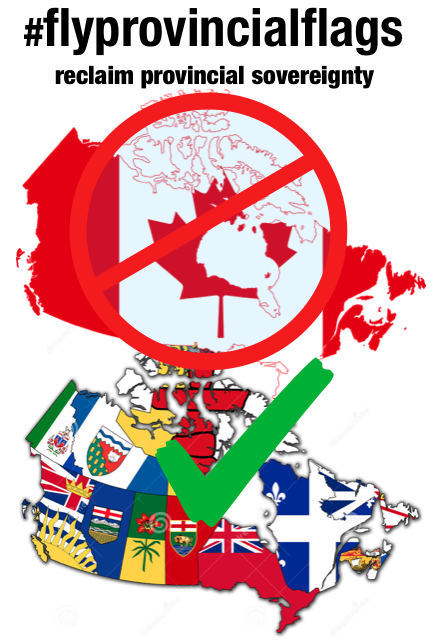 Separation? Or Just Reclaim Authority…Fly the Provincial Flag
Lots of talk about Alberta separation. Good idea? Bad idea? How dare they?
#flyprovincialflags
People overlook a simple, quick solution to the main problem: federal government invasion of provincial jurisdictional matters. This can be reversed quickly and fairly painlessly starting with replacing the Canadian flag with the provincial flag on all provincial jurisdiction building, land etc.
Decades of failed provincial leadership allowed federal invasion of provincial jurisdiction is visibly demonstrated everyday for all to see. The presence, dominance and primary position of the Canadian flag.
What? Get serious you say?  [interview with jd about this topic linked below]
Have you heard of the "law of the flag"? It is the internationally recognized for a thousand years and still today.
The principle is: the law follows the flag. The flag that flies is the law in force and to be enforced.
QUESTION: What flag flies on/in your provincial legislatures, city hall, police cars, schools, office buildings etc. Chances are it's a Canadian flag.
Why is it not your provincial flag?
What would happen if everyone in the province (including provincial government) removed Canadian flags from all provincial jurisdiction buildings, offices, schools etc. and provincial legislatures (including inside the legislative chamber)?
Not only would it send a message, it may return the authority of provincial law and provincial jurisdictional supremacy to the provinces where it belongs. Don't separate, reclaim provincial sovereignty.
Start reclaiming provincial sovereignty is more that symbolic when removing of Canadian flags from provincial jurisdiction building, cars, transit etc.
Begin flying the provincial flag.
share the idea – #flyprovincialflags
Consider this mind bender…where are you? Are in a province, or are you in Canada, physically? How about legally speaking?
Each province has it's own land and inhabitants. Canada has no land and no inhabitants. Canada is a federal, juridical, political concept… not physical land. Provinces exist as a defined land mass whereas Canada exists only as an legal fiction, idea. Provinces are a physical place, Canada is a thing just an idea.
Canada was created as a federal political legal entity to handle common needs of all provinces, it was not created to rule over the provinces.
For each province to reclaim their provincial power, authority and jurisdiction begin flying the provincial flag everywhere the Canadian flag flies, except federal building and federal lands.
Flying your own flag is an exercise of authority that exists within each province but has been forgotten.
Your property? No need to ask anyone. Just do it.
Municipal, city, town, provincial vehicle, building or land? Write, petition, email, fax, phone a request/demand to fly the provincial flag, not the federal flag.
When the provincial flag flies exclusively that is a declaration of provincial jurisdiction and authority. To not do so is to continue to grant jurisdiction and authority to a foreign jurisdiction political entity with the continued right to rule within provincial jurisdiction. (there is the more complex issue of untangling the financial ties, taking money from feds gives them some say/jurisdiction – benefits come with obligations/strings).
Here's an article about Alberta separatist ideas. Many good ideas but too much asking, bleating about unfairness and not enough standing up and exercising the rights, powers and authorities Alberta (and other provinces) all already possess. Begin with the recognized symbol of law and authority, fly your provincial flag proudly.
I agree with most of the planned actions they raise below. Long overdue.
It all really means provinces stepping up and running their own province as it was always intended to be before federal government grew insanely large by invading provincial powers and sucking money out of them. Start simple, fly your flag.
What do you think?
Any ideas on getting going a campaign to fly your flag instead of the federal flag?
 #flyprovincialflags
What would happen if every province removed Canadian flags from all provincial jurisdiction buildings, offices, schools etc. and provincial legislatures (including inside the legislative chamber)?
Not only would it send a message, it may return the authority of provincial law and provincial jurisdictional supremacy to the provinces where it belongs.
---
What Can You Do? Play a Part in the Action.
If you fly a Canadian flag replace it with a provincial flag
Where-ever you see a Canadian flag on a building or out front of a building that is municipal, city or provincial in natural write a letter to EACH demanding a change to flying the provincial flag only
Start a petition to demand the Canadian flag be replaced by the provincial flag on every municipal, city, provincial government building
Write/petition the provincial legislature to remove the Canadian flag beside the speaker's chair and elsewhere. Also demand the yellow fringe flags be replaced with non-fringed flags
Buses and police cars should remove the Canadian flag stickers and display the provincial flag
Don't take no for an answer. Get you answer in writing. Demand to know why not?
The only place a Canadian flag should fly is a federal building or land
NOTE: RCMP being federal should be replaced by provincial police force and in the meantime display the provincial flag alongside the Canadian flag (ie. their vehicles)
DOWNLOAD PDF of above meme graphic SHARE IT  🙂  – #flyprovincialflags-meme1
---
Interview with jd about #flyprovincialflags begins at 27:37
Subscribe to Our YouTube Channel
---
---
https://www.cbc.ca/news/canada/calgary/alberta-fair-deal-panel-1.5354642
Kenney's speech 'intentionally stoking the fires of western alienation,' former premier Notley says

Alberta's premier is addressing western alienation by taking a page out of Quebec's handbook and looking at ways to give the province more autonomy.

Alberta will open offices in other provinces, introduce an act to give Albertans the power to petition for referendums and create a panel to look at giving the province further independence, like pulling out of the Federal-Provincial Tax Collection Agreement or establishing a provincial police force.

Premier Jason Kenney made the sweeping announcement Saturday during a keynote address to close the Manning Conference in Red Deer, Alta., an event held by the Manning Centre, a Calgary-based right-wing think-tank.

"Albertans have been working for Ottawa for too long. It's time for Ottawa to start working for us … they must stop taking us for granted," Kenney said.

"They need to understand they're killing the golden goose. They have both fists wrapped around the throat of that goose."

Reform Party founder Preston Manning will sit on the panel, along with Stephen Lougheed, son of late former premier Peter Lougheed, former MLA Donna Kennedy-Glans and three current MLAs, among others.

Kenney said he wants to acknowledge that some Western Canadians no longer feel at home in their own country, and suggested "Laurentian elites" have both benefited from Alberta's wealth and abandoned the province in its time of need.

"How perverse is it to blame the victim in a sense when we have been doing so much to share our wealth with the rest of the country?" he asked.

But he said separation is not the answer, even though he views Prime Minister Justin Trudeau's minority government as "a danger" to the federation.

"I am and always will be a Canadian patriot. I believe that in their heart of hearts the vast majority of Albertans are Canadian patriots," he said.

"My own view is I cannot conceive how we would be better off by cutting ourselves off and landlocking ourselves from the rest of the continent."

Instead, he said he will look at what he described as bold moves to bring some powers from federal to provincial jurisdiction.

Some measures the new Fair Deal Panel will study include:

Establishing a provincial revenue agency by ending Alberta's Federal-Provincial Tax Collection Agreement.
Withdrawing from the Canada Pension Plan and establishing a provincial plan.
Ending the province's relationship with the RCMP and creating a provincial police force.
Opting out of federal cost-sharing programs.
Seeking an exchange of tax points for federal cash transfer.
Establishing a formal provincial constitution.
Appointing a Chief Firearms Office for the province.

"We must maintain leverage over the federal government over the next two years to ensure completed of the Trans Mountain pipeline expansion," Kenney said. "We must use wisdom to carefully stage each element of this fight for fairness."

Reform Party founder Preston Manning said that yearning for autonomy is one thing Quebec and the west have in common.

"Both want a more decentralized federation for somewhat different reasons. Quebec more for linguistic, cultural and social reasons, the west for economic reasons," he said.

The panel will consult with experts and hold town halls between Nov. 16 and Jan. 30, before completing a report to government by March 31, the release said. The panel's budget is set at $650,000.

If the panel finds support for those measures, Kenney said, the next move would be to hold referendums before moving forward — but that provision was not mentioned in his mandate letter to the panellists.

Alberta will also be opening offices in Ottawa, Quebec and B.C. to "defend the province's interests."

Similarities to 'firewall letter'

Kenney's speech shared some similarities with the famous letter that kicked off the Alberta Agenda in 2001 and called for "firewalls" to be built around the province.

That open letter, signed by future prime minister Stephen Harper among others and addressed to then-premier Ralph Klein, also called for a provincial police force and withdrawal from the Canada Pension Plan.

"Klein rejected it. He refused to move forward on it. Kenney is throwing the full weight of the government behind it. That's the difference between 2001 and today," Mount Royal University political science professor Duane Bratt said.

"The similarity is it's both in the aftermath of the Conservatives losing an election. And so you wonder, would any of this come about if there was a Conservative government? If you're pursuing an autonomous strategy, which this is within Canada, it shouldn't be dependent on who is in Ottawa."

Bratt said the speech was the most significant one Kenney has made as premier.

Today's remarks by Premier Jason Kenney are dangerous.– Opposition Leader Rachel Notley

Opposition Leader Rachel Notley suggested Kenney is putting Albertans' pensions at risk and stoking separatist sentiment.

"Today's remarks by Premier Jason Kenney are dangerous. He is intentionally stoking the fires of western alienation in order to advance his own political objectives. He did not campaign on any of these issues," Notley said in an emailed release.

"Instead of getting to work on the priorities of Albertans … he is exploiting the real frustrations of everyday Albertans by sowing the seeds of separation with tired ideas from decades ago. Alberta is part of Canada, and Jason Kenney needs to accept that."

Trevor Tombe, an associate professor of economics at the University of Calgary, said measures like having Alberta set up its own tax collection agency don't solve any problems or achieve any particular objectives.

"Altogether, they are each proposing things that would substantially increase the size of the Alberta government and because of that higher level of government spending, potentially higher taxes in the province. So they don't represent particularly fiscal conservative initiatives," he said.

Kenney's letter to the panel outdating its mandate can be read below:

Mobile users: View the document
(PDF KB)
(Text KB)

PDF of Article – Alberta addresses separatist sentiment by studying measures that would give province more autonomy | CBC News
Watch Jason Kenney's speech:
---
https://www.canada.ca/en/canadian-heritage/services/flag-canada-etiquette/about.html
About National Flag of Canada etiquette
The National Flag of Canada as well as the flags of the provinces and territories are symbols of honour and pride for all Canadians. They should be treated with respect.
The manner in which flags may be displayed in Canada is not governed by any legislation but by established practice. The etiquette outlined in this section is a version of international usage and of customs the federal government has been observing for many years.
The rules applied by the federal government are not mandatory for individuals or organizations; they serve as guidelines for all persons who wish to display the Canadian flag and other flags in Canada.
---
https://www.canada.ca/en/canadian-heritage/services/flag-canada-etiquette/flying-rules.html
Rules for flying the National Flag of Canada
The National Flag of Canada can be displayed in many different ways, from the front yard of a house to the top of a building. There are rules and guidelines on how to display this flag to honour it.
The National Flag can also be flown with the provincial or territorial flags, or those of organizations and other nations, in which cases it would take the position of honour.
https://www.canada.ca/en/canadian-heritage/services/flag-canada-etiquette/position-honour.html
---
Do you see the Union Jack flying somewhere in Canada?
https://www.canada.ca/en/canadian-heritage/services/flag-canada-etiquette/foreign-flags.html
USMC FLAG MANUAL – https://www.apexflags.com/USMCFLAGMANUAL.html
---
Flag Photos
Federal Legislature

---
B.C. Legislature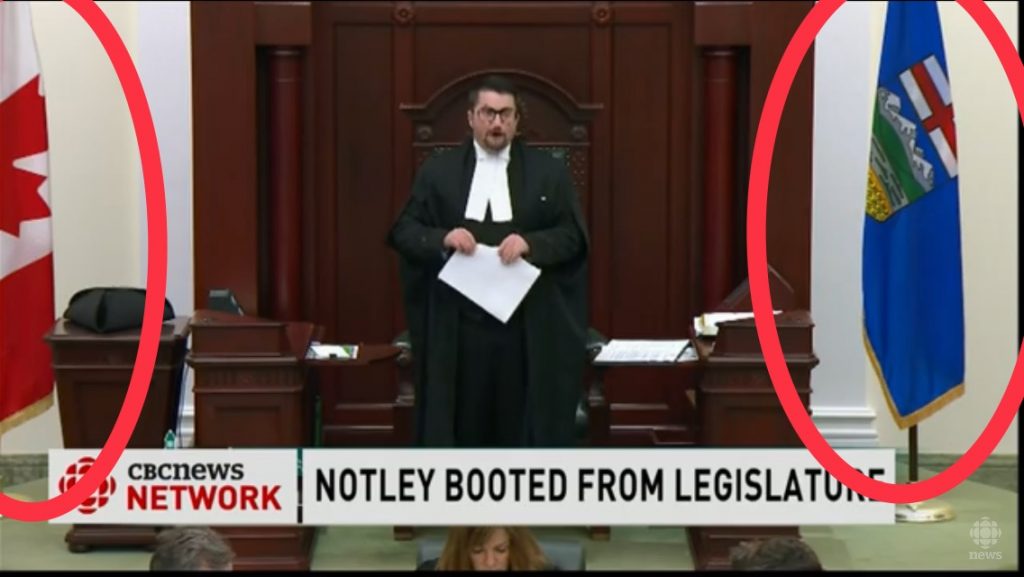 ---
Alberta Legislature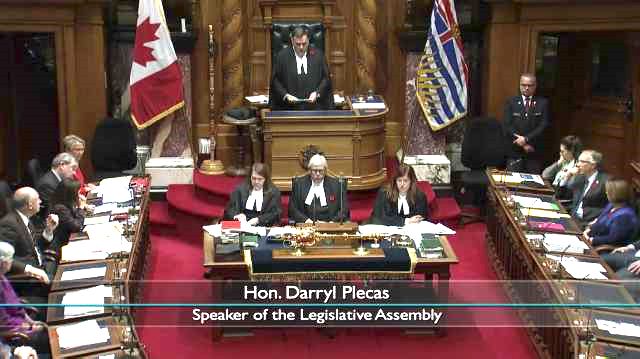 ---
LINK TO POST ABOUT COAT OF ARMS CHANGING IN CANADA
LINK TO POST ABOUT B.C. HANSARDS ENDING USE OF COAT OF ARMS
'human being', 'private person', 'natural person', 'man' in Statutes
Webinar: The Hidden Power of 'private person' and 'natural person'