Public Prosecution Service Canada, But Which One?
Dag nab it! I thought at last I had it figured out…but the rabbit hole not only goes deep, it goes wide.
Public Prosecution Service Canada (PPSC) is the group of fine, law abiding lawyers who have no interest in convictions just making sure the law is upheld and justice is done. Right? Well maybe some, but another bunch are lying, cheating bunch of rascals. Can I meet the honest ones please?
It seems that PPSC has, like a cat, multiple lives. Will you looky here. It seems that there are at least three and maybe four of them. Dun and Bradstreet lists a few variations of the name with different addresses. hmmm
Click to see larger: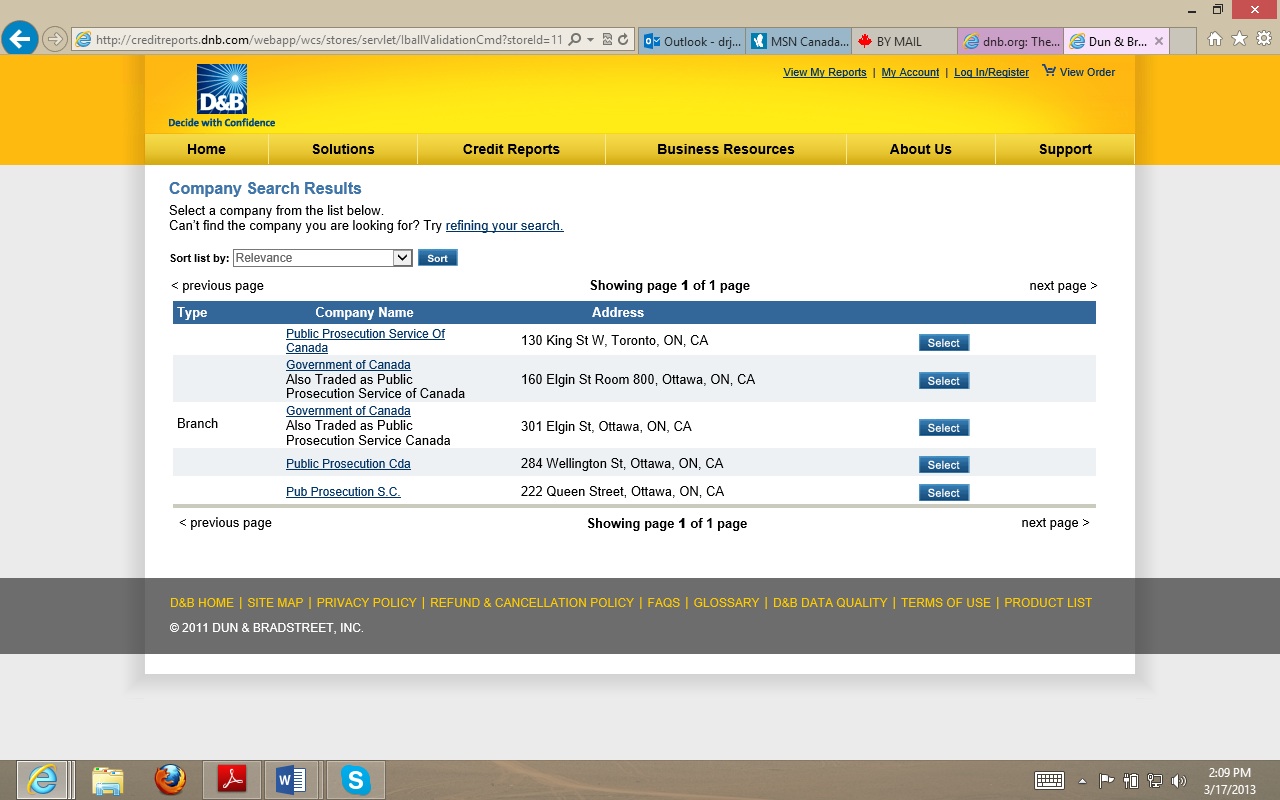 What could it mean? And this "Government of Canada also Traded As Public Prosecution Services Canada". WHAT? REALLY??
I also came across this note:
GOVERNMENT APPOINTS DEPUTY DIRECTOR OF PUBLIC PROSECUTIONS

OTTAWA, March 13, 2013 – The Honourable Rob Nicholson, P.C., Q.C., M.P. for Niagara Falls, Minister of Justice and Attorney General of Canada, today announced the appointment of Kathleen Roussel for the position of Deputy Director of Public Prosecutions.

Ms. Kathleen Roussel received a Bachelor of Arts from Queens University in 1989 and a Bachelor of Laws from Ottawa University in 1992. After being called to the Bar of Ontario in 1994, she practiced with the Ottawa law firm Beach and Doyle until 1997.

From 1997 to 2005, she worked for the Department of Justice, Canadian Firearms Centre, first as legal counsel and then as Director and Senior Counsel. Since 2005, Ms. Roussel has been with the Department of Justice, Environmental Legal Services, currently serving as Senior General Counsel and Executive Director.

The Public Prosecution Service of Canada was created in December 2006 as part of the Federal Accountability Act. The PPSC fulfills the responsibilities of the Attorney General of Canada in the discharge of his criminal law mandate by prosecuting criminal offences under federal jurisdiction.

This appointment is effective April 15th, 2013.

http://www.justice.gc.ca/eng/news-nouv/nr-cp/2013/doc_32868.html
What was it called before 2006? Department of Justice? I guess that is one more example of a department of the government getting hived off into a corporate agency?
"Discharge of criminal law mandate" hmmm what about the vast majority of cases that they handle that are classed as "quasi-criminal" which means not criminal but borrowing the criminal law procedures.
Maybe the whole legal/colour of law/offences under an Act game is all a farce. What do you think?
NAW! Couldn't be. Prove me wrong, please! I want to believe in truth, justice and honourable people again like I did before I really looked around at what was going on and I started to ask the dreaded question…. "this can't be right, can it?"!
Maybe I should have stopped there and not asked the next question…….