Video The Police All You Want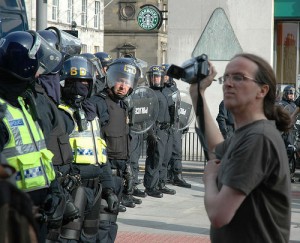 We reported on video recording police a while ago and there is a recent case in the USA that addresses it from the court's perspective.
The Court said, "GO FOR IT, IT IS EVERY CITIZEN"S RIGHT!" (or words to that effect)
As reported by Jack Kenny of the New American a N.H. judge upheld the private citizens right to video police while they are on duty even if they don't like you doing it, it is not a crime.
"The fact that Officer Montplaisir may have been unwilling or unhappy being recorded does not make a lawful exercise of the defendant's First Amendment rights a crime," Tenney wrote.
Another recently decided case "Glik v Cunniffe" leaves no doubt:
"Glik leaves no doubt that engaging in an audio recording of a police officer in the course of his official duties in a public place is protected speech under the First Amendment," Tenney wrote. The judge also found that Alleman had in no way interfered with the officer in the performance of his duties.
It's good news for citizens who care enough to report on corrupt police activities. After all "they" tell citizens all the time "if you don't have anything to hide it doesn't matter" well that goes double for the public servants of all kinds.
"The right here is freedom of the press," the Concord attorney said. "This is the right to gather information about how the government operates." Alleman regularly reports on government activities on his blog, frequently attending and taping public hearings at the State House in Concord, for example, and posting the video on the Internet for the benefit of interested persons who were not able to attend the hearings. Anyone, not just reporters, has the constitutional right to do the same, said Hipple, noting that a police officer carrying out official duties in public has no expectation of privacy.

"It's not a new proposition," said Hipple. And as both the Glik and Alleman rulings have affirmed, "This right doesn't apply just to reporters, it applies to all citizens."

The Alleman case was one of three in the past 18 months in which Weare police have charged citizens with unlawfully recording police officers in public. Charges were dropped against the other two, but one of them, who is also a Hipple client, is now suing the town and its police department over her arrest. The plaintiff is seeking compensation for time spent in jail following the arrest, time lost in court, lawyer fees, and the emotional stress of facing a possible seven-year prison sentence, Hipple said. He said he did not yet know whether Alleman will file a civil suit over his arrest. But the attorney hopes the dismissal of the criminal charge, "along with various laws suits that have been filed" will persuade Weare Police to "respect people's First Amendment rights to document what their government is doing."

http://thenewamerican.com/usnews/constitution/9635-nh-judge-upholds-right-to-record-police-in-public
Do you think the basic principle law applies in other common law jurisdictions?
Glik v Cunniff – right to video police-10-1764P-01A
If you want a gruesome story of more police brutality check out this man beaten to death by multiple cops….even with video of the murder these cops are hard to prosecute.
If you are easily angered or overly sensitive don't look at the picture of his face after the beating. The video is disturbing as well but not because of close up graphic. Notice all the people watching him being overwhelmed with five taser hits and a physical beating all while prostrate on the ground. The "peace officers are yelling "stop resisting arrest" to cover their brutal violence under the guise of their right to beat him for resisting (which the video proves there was no resisting).

What would you do if this happened right near you? Since you would become the next target of attack probably the same as the person being beaten, nothing. At least they video recorded it as proof of the crime.
http://www.pentaxforums.com/forums/political-religious-discussion/154343-fullerton-ca-cops-beat-homeless-man-death.html
If you think, "that couldn't happen here", do some research and I bet it already has.