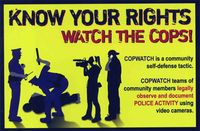 These two news stories caught my eye for different reasons. We have had a spate of violent police actions and no-accountability for that violence by police in Canada.
Local police and RCMP regularly get off for their violent crimes, yes violent crimes. Anyone can see the videos of these events and KNOW they are violent crimes under the guise of police authority, police safely. It's obvious to ANY non-biased observer the officers have over reacted and in most cases police escalate the situation instead of trying to de-escalate a relatively non-threatening one.
I fear for my personal safety now if I ever have contact with police. In Canada you say? Yep. Crazy.
The second story is a police feel good story that puts the public's expectation of police brutality into context in a really bizarre way.
From tasering people to death (multiple cases), filling people full of lead (recently in Vancouver and Toronto-including a final bullet to the back of the head execution style), using excessive force to detain someone who is peaceful or demonstrators being attacked – this list goes on and on and it's disgusting.
These violent acts continue because the hierarchy of the police force and the political will Continue reading It's a Start At Least: Police Accountability →