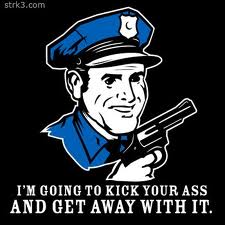 The laws are intended in part to act as a deterrent to criminal acts. But laws lose all deterrent effect if the criminal-wanna-be KNOWS that no one knows the law AND/OR the law will never be enforced against them.
Such is the dilemma we find our sad selves in now with the police, lawyers, politicians, public servants and more. "They" have operated SO LONG with impunity because no one enforced the rules against them that they are literally in a criminal free-for-all.
Like misbehaving children with guns they need a time out, be grounded and in some cases spanked. This applies to every "public/civil servant" who does wrong…. including those who do not report their fellow workers who are engaging in rules breaking and criminal acts. You are an accomplis if you do not actively speak out to help stop it. You are the first, best witness to the crimes and your silence binds you to the guilt for the crimes.
The "superiors" who encourage lawless behaviour by not acting to enforce the internal policies and rules, never mind the rule of law, carry the greatest burdon of guilt and responsibility because your actions CAN stop such behaviour, but you choose not to. Your inaction actually encourages more lawless behaviour by your charges.
So it falls to the private citizen to Continue reading 'Sue "Them" In Their Personal Capacity'»
By